Classic Hardwood Floors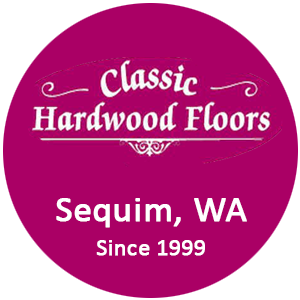 We are a specialty, full service hardwood flooring contractor located in Sequim, Washington, on the Olympic Peninsula.
Hardwood is all we do.
Making a wood selection is a pleasant experience for builders and clients when they are able to stand on a large area of their selected would. We take time to educate our clients while helping them choose a beautiful floor that is appropriate for their lifestyle.
Our reputation as a professional, reliable and self managing business precedes us. We are staffed with our own personally trained conscientious installation crew that offers top quality workmanship on every job. We continuously educate and inform our craftsmen regarding superior products, innovative ideas and new methods to keep them on top of their craft. The satisfaction of our customers, along with the quality of our work, are our number one priorities.
Classic Hardwood Floors will install, sand and finish your new hardwood floor or, if you're remodeling, we will sand and finish an existing hardwood floor to restore it as closely as possible to its original beauty. Pre-finished flooring is another product we offer which is also installed by a professional crew.
Thank you for thinking of us in your search for superior workmanship at competitive prices.